Former Geordie Shore star Aaron Chalmers said he was "grafting" in preparation for an exhibition match with Floyd Mayweather.
The 35-year-old, who has fought one professional boxing match, will face the American in his first UK bout.
Ignoring critics of "influencer boxing", Aaron said he had ambitions to fight the likes of KSI and Logan Paul and "sail off into the sunset".
Aaron faces off against Mayweather on 25 February at London's O2 Arena.
Since retiring with a 50-0 record in 2017, Mayweather has fought several exhibition matches, including against YouTuber Deji and Logan Paul.
Celebrity boxing matches are not a new phenomena.
Muhammad Ali fought NFL player Lyle Azlado in 1979 and Bob Mortimer squared-off against Les Dennis in 2002 in a match for Sport Relief.
Some boxing purists have criticised this genre of the fight game, but Aaron believes "times are changing".
"It's good for business," he said
"I'm bringing a lot of people from Geordie Shore. The more eyes on the sport the better.
"Just because they aren't die-hard boxing fans doesn't mean they shouldn't watch the sport.
"I'm going to lap it up. If I can get Tommy Fury and KSI, then get offered a couple more – why not?
"I'll get those and sail off into the sunset. Let's see what happens."
BBC 5Live boxing pundit Steve Bunce said that although it might surprise some people, he "doesn't have a problem" with influencers stepping into the ring.
"They're not traditional boxing people, they don't want to be and they shouldn't be judged as traditional boxing people," he said.
"They come from a different arena, an arena that brings an incredible amount of eyes and ears to the sport."
Reflecting on his time on Geordie Shore, Aaron said: "I wasn't healthy. I was drinking five or six nights a week."
Now a father-of-three, he wants to be a role model and has previously talked about how taking up MMA helped him deal with anxiety.
"Last year was such a bad year on all fronts," he said. "My boxing career was going down the pan and my personal life wasn't great – now I'm fighting one of the greatest of all time on his first time in the UK.
"It just shows how life can turn around."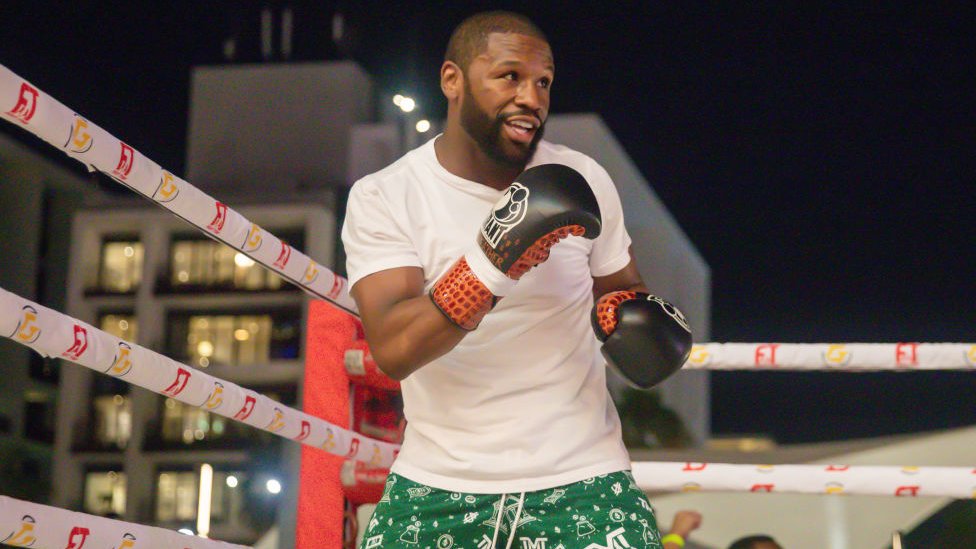 Aaron secured the match with a "random message" to one of Mayweather's team, who he had met years earlier when the boxing promotor was working as a security guard on Geordie Shore.
The match will see him fight eight two-minute rounds with Mayweather, who he said "won't want me to tarnish his reputation".
"It's kill or be killed," he said.
Follow BBC North East & Cumbria on Twitter, Facebook and Instagram. Send your story ideas to [email protected].